Emirates through Dubai. 16 hour flight from LAX and, really, cheating a bit on an around the world path. Look at the globe. This flight goes over the North Pole, more or north-coast-of-Greenland less.
Anyway, several bad movies later, I had a 7 hour layover at Dubai. So the metro runs quickly in to the Very Tall Building – sometimes pronounced Burj Khalifa. But not quickly enough. By the time I walked around it, there were no more slots to the top that night. Maybe next time. It is kinda cool, though, from right underneath.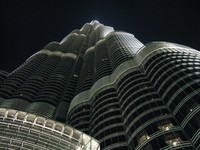 In Colombo airport: Waited with eyes closed for the immigration line to disappear. Didn't try the net, where I would have found an email from the owner of the hotel in Kandy. The email said a car had dropped someone off and could take me directly to Kandy. Which would have been a good idea, probably.
But the issue was moot. My well-washed passport was finally explained by the Sri Lanka immigration guy. The mag strip isn't readable. So that's why I had to go to the empty and mysterious "Room number 3" to get back in the airport in Dubai. And why every passport official fusses about the passport. How did they ever survive back in the day?
Train to Kandy. Struck up a conversation with a doctor. Seems ultrasound scans are $6 or $7 dollars in Sri Lanka. Bit like train and bus prices. Which are, to outside eyes, free. Multiple hour trips across half the country are in the 2 dollar range here. Not sure who's picking up the tab.
And after a tasty dinner at the almost-empty Majestic Tourist Hotel, I slept for 26 hours.