Well, I suppose that it's 'cause the trail is not far to get to that I keep coming back to it.
First thing: This is not a particularly good trail. It's in the Mt. Si class of trails going up. Boring, really. Not much to see. One or two little lookouts far above I-90 on the way up. It's about 45 minutes to the cutoff to the Balcony (if you're reading an eBook on your Palm). And, another 45 minutes to a fork in the trail.
At the fork you can keep going straight to the east or you can switch back over the soggy ground and continue up the relatively steep trail to the west. This picture was taken pointing level, so you see that it's a relatively steep trail.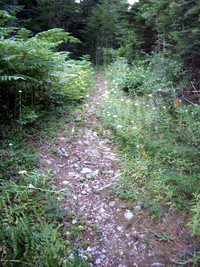 The last hike before this weekend I'd continued east. Turned around from lack of sun. Good thing.
Yesterday, Saturday, I left much earlier and kept at it. And at it. Up above a little lake. The "trail" eventually peters out below the last section of rock near the top of a series of hill tops making the trail's bowl to their west. In a rare state of reasonableness I looked up at the last few hundred vertical feet and said, "What am I doing here? If I get to the top of this thing, I'll want to go along the ridge to the top of the highest of these peaks. Why?"
It was a hard question to answer.
I headed down.
But not without first eyeing the east end of Mailbox Peak and wondering, "Hmmm. Would it make some kind of sense to go overland to Mailbox. Then go down the Mailbox trail and hustle a ride back to the car?"
Luckily, it did not.
And I did not head down the northern side of all this stuff to Granite Lake where I figured I could pick up the old logging road leading down to the Middle Fork of Snoqualmie road. And bum a ride back to the car.
That "old logging road" is the one that goes up to the stange little building atop a mountain, the "Our welcome mat is always out for you" building. From the side of the hill I was on, I could not see that building, btw.
Anyway, Saturday I was low on Costco Sport Drink and hadn't eaten much breakfast. End of hike.
Sunday: Oh, what the heck. Let's see what's to the left at the fork.
Apparently, what's to the left is a long haul up to a hill that may or may not be named Dirty Harry's Peak.
Getting to the bottom line: I read a book.
But, after slogging to the top, I found too very nice feelies:
Coming around a bend near the top I looked directly across at the "our welcome mat is always out for you" … whatever it is.

At the top you walk up through some scrub trees and, if you're reading your eBook too intently, you can take a big step down. Just about staight down in to Granite Lake. Nice drop.
And, at the top you'll find that you can't easily zing over to the east end of Mailbox. There's this little 100 foot drop to deal with. You could always skirt around below the hill top. Or you could bring a rope, double it around a tree or something and rappel down. But, why? Anyway, maybe someday I'll take the old, old logging road up from Granite Lake and then sort of bush-whack to the top of Mailbox from the north side. Seems like it would be kinda fun. Maybe surprise someone there. "Oh, just passing through."
So, this weekend was all Dirty Harry.
I suspect that I won't be back.
Want a view that's close-in? Rattlesnake Ledge.
And, if you insist upon doing Mt. Si, take the trail up from Little Si. It's not marked, but you can feel your way off the Little Si trail to go up the main hill. It's the only way to go up Mount Si. The main trail feels (to me coming down in the dark, twice now) raggedy and over-trodden and meandering. The trail up from Little Si softly and quickly goes up through a steep forest. Pleasant.