Summer and I saw the nice weather and headed up along Highway 2 past Monroe.
Hmmm. What's Index? We looked. Tiny town with a cool name.
We kept going up the dead end road past Index, saw a sign about a trailhead, pulled an old trail map book out of the trunk, found the trail description, and thought, "Emerald waters, moderate to difficult, 2700 foot gain" … sounds good.
I gear up. Summer throws her red bag with a loaf of bread, some fake meat, and two small bottles of orange juice on her back, and we take off.
Or, more accurately, Summer takes off with a Youth of America bounce. I stomp after like Godzilla in flippers. Sheesh. Is this kid gonna hit a wall? Answer. No. The trail winds back and forth up a hill. It's a very nice trail. This picture is not representative, though there are several rootie, Hobbittown looking spots on the trail: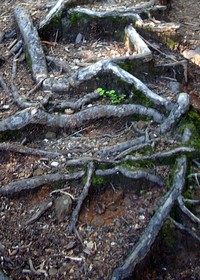 Eventually, the trail passes a little lake called Virgin Lake. Then the trail pops up along a ridge from which you can see Glacier Peak, the Northwest's least visible volcano. And the top of the ridge is speckled with old peat bogs making artificial looking camp sites.
I found Summer at one of 'em talking with a couple of guys who were camped out. She'd probably been there for about 4 hours, given our speed differences. We all talked for a bit, having fun. Then the bugs got to Summer ("Hey, thanks for coming along. They aren't bothering me at all." says her empathetic Dad.), so we trundled on down the trail to Lake Blanca.
If you take this trail, don't get discouraged when you start down the steep trail to the unseen lake. Yes, you hear water about 10,000 feet below. Yes, it's a little hard to figure out why you won't be going to that water. Yes, the lake may seem like it must be about another 4 miles away. But, trust me, it's not too far.
And, the waters are "emerald". I suppose. Anyway, they are a striking green that does not come through in this picture: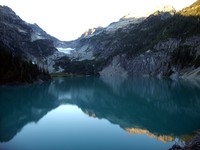 The flashlight, as usual, got us out to the car.
Nice hike. Summer figures to come back. The trail is variable, has a lot to offer. We probably hit its best time of the year.